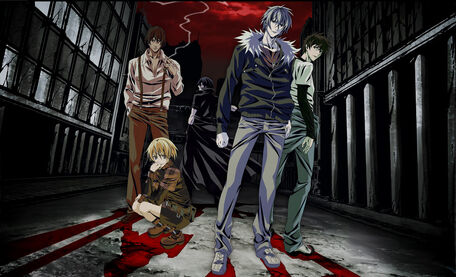 In March 2010, as part of the Nitro+CHiRAL 5th Anniversary, an anime adaptation was announced for Togainu no Chi with production by Aniplex. The anime began airing on MBS and TBS on October 7, 2010.
Episode List
Edit
Soundtracks
Edit
The anime featured one opening theme, Rose Hip Bullet, and twelve different ending themes, one for each episode. Several albums were officially released for the anime.
Togainu no Chi Original Soundtrack
Edit
The Togainu no Chi Original Soundtrack contains a number of songs from the anime, including the opening theme and nine of the ending themes.
TOGAINU NO CHI ENDING THEME COMPLETE COLLECTION
Edit
The TOGAINU NO CHI ENDING THEME COMPLETE COLLECTION contains all of the ending themes for the anime.
Light My Fire
Edit
Light My Fire contains the background music for the anime. It is composed by Masaaki Iizuka.
Differences from the Game
Edit
Several things were changed from the original game. All explicit content was removed, and scenes of gore and violence were changed to be more friendly for mainstream television. All traces of BL content were removed from the plot entirely. The routes present in the original game were converged into one linear plotline.
The anime did not receive good ratings. Most cite the poor art quality throughout the series, and the lack of coherent plot.
Ad blocker interference detected!
Wikia is a free-to-use site that makes money from advertising. We have a modified experience for viewers using ad blockers

Wikia is not accessible if you've made further modifications. Remove the custom ad blocker rule(s) and the page will load as expected.