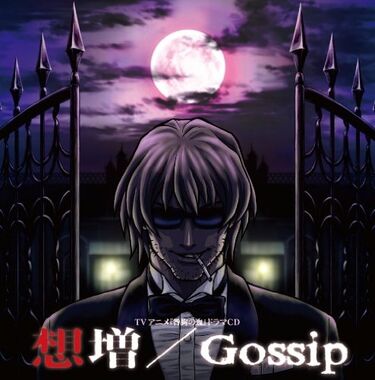 想増/Gossip (Sou-Zou/Gossip) is a drama CD based off of the anime. It runs for thirty-nine minutes and thirty-five seconds.
Track Listing
Edit
1. 錠報/peep
2. 騒導/routine
3. 遊霊/spook
4. 漆刻/dungeon
5. 戦浄/launder
6. 殺客/enchant
7. 廃達/carriage
8. 犯売/sale
Sell the Perpetrator/sale
9. 誤睡/doze
10. 業格/peril
11. 奪落/eliminate
Steal the Punchline/eliminate
12. 談章/joke
13. 情封/irony
The track titles use very high level kanji. "漆," for example, is the old form of "七," which means "seven."
External Links
Edit
Ad blocker interference detected!
Wikia is a free-to-use site that makes money from advertising. We have a modified experience for viewers using ad blockers

Wikia is not accessible if you've made further modifications. Remove the custom ad blocker rule(s) and the page will load as expected.