Light My Fire is a soundtrack album containing the background music from the anime adaptation of Togainu no Chi. All of the tracks were composed by Masaaki Iizuka, publishing under the name e-ZUKA.
Track Listing
Edit
blame
Blood Booster
Burn Your Enemies
eZ RHB
Wonder Toy Boogie
Light My Fire
Loop Quantum Gravity
Monster Maze Coaster
Pulse Error Addiction
Wicked Nights
Dragon In Dungeon
Tears of Rose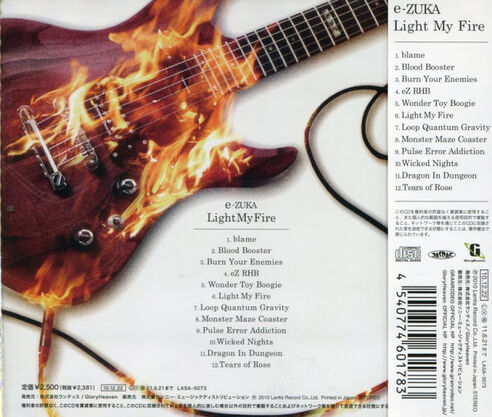 The soundtrack's catalogue number is LASA-5073.
External Links
Edit
Ad blocker interference detected!
Wikia is a free-to-use site that makes money from advertising. We have a modified experience for viewers using ad blockers

Wikia is not accessible if you've made further modifications. Remove the custom ad blocker rule(s) and the page will load as expected.