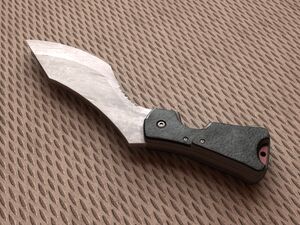 Takeru's Knife
is a hunting knife that initially belongs to
Takeru
. It has a large blade and a distinct shape, and is among the most recognizable weapons in the series.
In every adaption, Takeru is killed by the Line-crazed Keisuke, and the knife is taken as a symbol of proof. Keisuke then uses the knife to kill many people, including non-participants in Igura, and attempts to kill Akira with it.  
In the Game
Edit
The knife appears on every route, and both Takeru and Keisuke have sprite images holding this knife. Takeru's knife also appears in several CGs.
In the Manga
Edit
Takeru takes 50% Line and goes insane in a similar manner to Keisuke, and uses his knife to slaughter the new Pesca Corsica, as well as participants and non-participants alike in the Hotel. 
Ad blocker interference detected!
Wikia is a free-to-use site that makes money from advertising. We have a modified experience for viewers using ad blockers

Wikia is not accessible if you've made further modifications. Remove the custom ad blocker rule(s) and the page will load as expected.